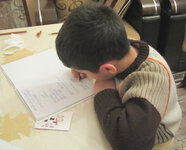 Creating a Music
Creative Common by SA License
To write a music, we arrange that surrounds us to our mind. We can start with objects that make noise. While listening to a music, it is then possible to think about an object or an idea. It inspires the creation of a personal song.
Then you type the keys of a piano, to invent a story, having in mind the differences between the notes. Or we create music on paper, thanks to music theory, which consists to write music to play.
After singing a song, the music will have a way of growth, resuming the song in another way.
This can inspire poems or songs. Poetry and writing help to find ideas. Instead of consuming, we change our mind to transform it.
The song's progress goes towards a search for fullness, with notes that lengthen, for example. We will add associated voices between genres, requiring a music theory teacher to create them. Four voices more or less acute, or serious, will create beautiful music, as long as these voices agree between them.
My Notes
With a piano and its manual, demonstrate that the range of C is repeated several times. Discover the similarity between the C and the G, between the D, the F and the A.